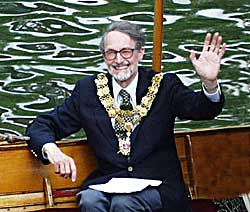 The vision for this website came from the late Councillor Michael Jones. It was his love for the Thames, and his fears for its future, that led him to seek a record of the river at the millennium – his mayoral year for the London Borough of Richmond upon Thames.

Rather than using the medium of print as he first envisaged, it was decided to employ digitial photography and the internet to make the record always available to all in this unique panoramic form. Everyone who loves the River Thames like Michael has him to thank for the creation of this website, showing our riverside as it is familiar to us now, at the end of the 20th century.
The website is dedicated to him.