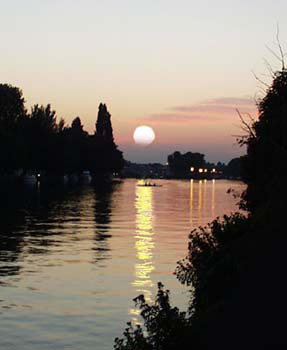 This is a unique photographic record of Richmond's riverside at the Millennium. It came about as the result of an idea of the late Cllr Michael Jones, who was the Mayor of Richmond in the year 2000, with the collaboration of the Richmond Environmental Centre River Group and the Environment Trust for Richmond upon Thames and with the skill of website creator John Inglis.
The purpose is to see and remember the built and natural environment of the river's banks, the public and the private buildings, boats and boathouses, wharves, slipways and embankments as well as the trees and lawns, the mud banks and inlets and the flora and fauna that live among them.
This will be a benchmark against which future changes to the riverside can be read.
The reaches have been photographed and edited to produce unique panoramas of the three tidal characters of the River Thames :
The tidal Thames at Mortlake
The inter-tidal Thames at Eel Pie Island, Twickenham
The non-tidal Thames above Teddington Lock at Hampton Wick
This is our river at the Millennium.